The submission rate of regulated / supervised entities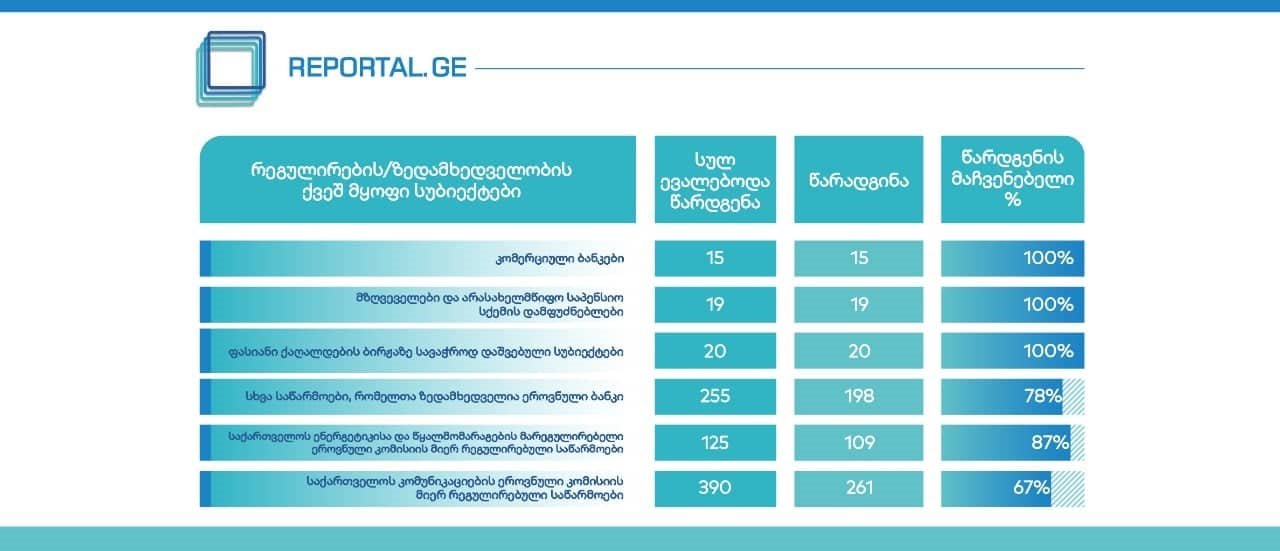 03.12.2021
The main aim of establishing SARAS is to create a transparent and reliable business environment in the country, where the interests of both investors and entities are protected. According to the Georgian law on "Accounting, Reporting and Auditing" entities have been submitting their financial statements on Reportal for 4 years. Including 2020, the average submission rate was 90%. Submitted statements significantly contribute to the establishment of a transparent business environment and the development of entities, which ultimately will have positive impact on economic situation of the country.
In 2021 PIEs and all category entities were obliged to submit their reports. It should be noted that more than 58 thousand entities have already submitted 2020 financial statements. At the moment, administering process of the annual reports is in progress and final submission rate will be announced at the end of the year by SARAS.
SARAS expresses gratitude to the management of each entity and representatives of the profession who share the importance of the accounting reform and present financial statements and management reports via reportal.ge.
At the moment, SARAS provides information on submission rate of regulated/supervised entities:
Commercial Banks 100%
Insurers and Founders of Non-Governmental Pension Scheme 100%
Entities admitted to trading on the Stock Exchange 100%
Other entities which are supervised by the National Bank 78%
Entities regulated by Georgian National Energy and Water Supply Regulatory Commission 87%
Entities regulated by Georgian National Communications Commission 67%