Agreement signed between SARAS and the International Finance Corporation (IFC)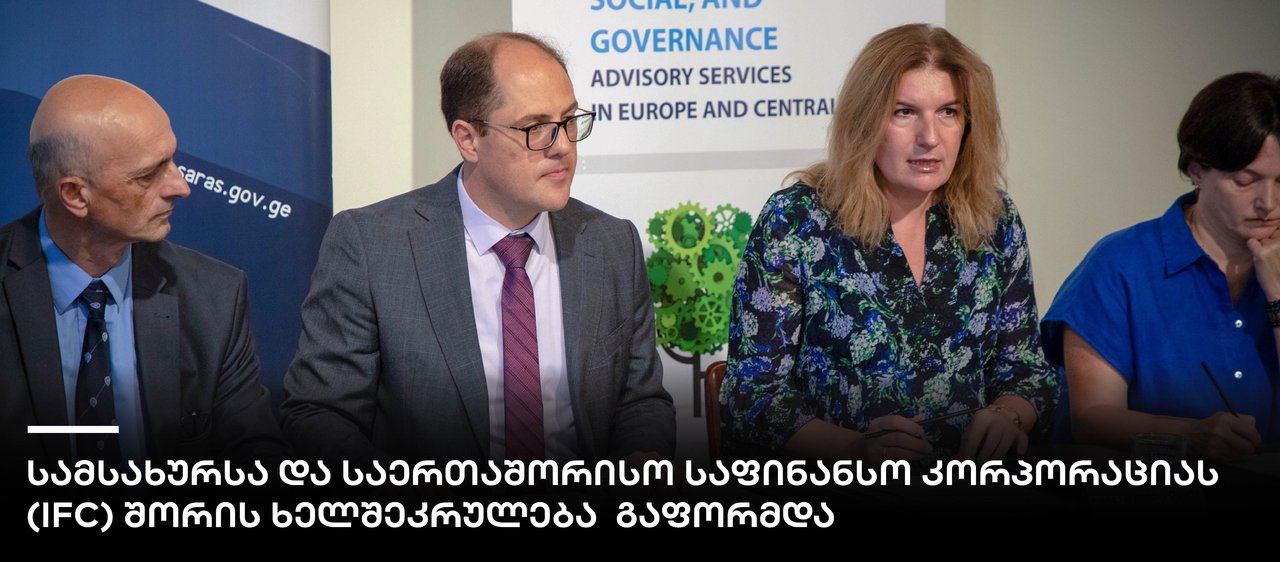 08.09.2023
A cooperation agreement has been signed between SARAS and the International Finance Corporation (IFC).
The aim of the cooperation is to strengthen SARAS's capacity in environmental, social and governance (ESG) reporting and to develop better sustainability reporting in Georgia, including ESG. To achieve this goal, recognized international standards, including the requirements of the EU Corporate Sustainability Reporting Directive (CSRD), will be considered.
As part of the cooperation, Management Reporting Guidelines developed by SARAS will be updated with the participation of the IFC to reflect best western practices in sustainability reporting on environmental, social and governance issues.
In addition, IFC will support SARAS by:

• Providing advice on development of the ESG disclosure regulation in line with the good international practices;
• Delivering an on-line capacity building workshop for the SARAS staff on sustainability reporting standards, covering ESG;
• Delivering an awareness raising events for stakeholders;
• Providing SARAS with access to IFC's Beyond the Balance Sheet online platform resources and tools and forthcoming resources and capacity building programs on the new global sustainability and climate disclosure standards.
"SARAS is actively working to fulfill the commitments made under the EU Association Agreement, and one of the directions in this regard is the development of the legislative framework for sustainability reporting and the introduction of best practices in the country," said Davit Mchedlidze, Head of SARAS.

"Disclosure of a company's environmental, social and governance (ESG) practices is essential to attracting investments. For many companies, ESG disclosure is a challenge. This in turn deters investors, who are increasingly considering ESG factors in their investment decisions. IFC will work with the Service for Accounting, Reporting and Auditing Supervision in
Georgia to improve ESG disclosure practices. This will make Georgian companies more attractive to investors," said IFC Regional Manager for the South Caucasus Ivana Fernandes Duarte.
IFC implements its environmental, social, and governance (ESG) program in Europe and Central Asia in partnership with the Swiss State Secretariat for Economic Affairs (SECO). For more information about IFC, please visit www.ifc.org.
In addition to cooperation with IFC, SARAS closely cooperates with the Center for Strategic Research and Development of Georgia (CSRDG). Also, in 2021, the Agency signed a joint memorandum of cooperation with several agencies/non-governmental organizations, including: National Bank, NNLE - Civil Development Agency, NNLE - Institute for Sustainable Development.
The aim of the cooperation is to develop a legal framework for sustainability reporting and to implement best practices for the purpose of approximation with the updated requirements of the European Union, in order to fulfil the obligations of dynamic approximation imposed by the Association Agreement with the EU.

"SARAS is continuing the cooperation and is actively working on expanding the list of organizations that have signed the Memorandum and are working on the issue" - Davit Mchedlidze, Head of SARAS.
Check out other news related to this topic:
• The EU Approves New Requirements for Corporate Sustainability Reporting
• SARAS placed a snapshot of exposure draft of corporate sustainability reporting standard on its web page
• "Survey of Management Reports prepared by business entities for 2020" - the representatives of SARAS participated in the event
• A Memorandum of Cooperation related to sustainability reporting was signed